The History of Wedgwood Community Church
What is known today as Wedgwood Community Church started back in 1907 as Green Lake Baptist Church. In the course of its more than one hundred years of existence, our congregation has built and worshiped in three different buildings in three different locations under four different names.

In 1907, a small group of believers in northeast Seattle desired to covenant together and establish a church of its own. Under the leadership of the Rev. Dewitt C. Ellis, fifteen charter members formed a church body known as Green Lake Baptist Church. Its first meeting place was a rented building called Kidd's Hall near Green Lake Station at the corner of 5th Avenue NE and NE 72nd Street.

After a fired destroyed the building in 1921, a new brick building was erected at 9th Ave NE and NE 75th, and the church name was changed to Calvary Baptist. In the 1950s, when development of Interstate 5 threatened to demolish the building, the congregation built yet another new building, this time in the heart of the Wedgwood district on the corner of 30th Ave NE and NE 82nd Street, where it stands today. The new church became Wedgwood Baptist Church. In 1994, the church name was changed to Wedgwood Community Church to reflect the diverse Christian background of the Wedgwood neighborhood.

Since 1907, more than 30 pastors and interim pastors have shepherded our congregation, and in November of 2012, the Reverend Wim Mauldin was installed as our newest spiritual leader.
As we look back over our history, we see times of triumph and times of struggle, and we realize that we have benefitted from both. As a church body, called to serve and witness for our Lord, we cannot relive our past, nor can we forecast the future. We must catch the moment and work to make the future a rewarding one for the cause of the Kingdom. If the past is a prologue for the future, then we are equal to the task.
The original church articles of incorporation stated that the purpose of the church was "Formed for the maintaining of the public worship of Almighty God, to propagate and spread the Gospel, and to observe the ordinances and the teachings of Jesus Christ." It was then -- and remains today -- our primary goal.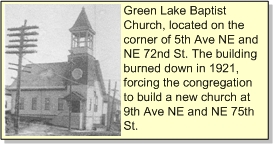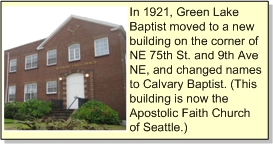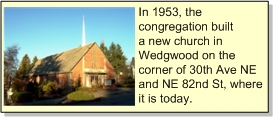 Our Vision Statement
Wedgwood Community Church is called by God to be a place of connection: Connection with God, connection with each other, and connection with our community. We will achieve this vision with a foundation of prayer and by the grace of God, under the power of Christ, with the help of the Holy Spirit.
Our Connection with God
Though being from many backgrounds, broad theological perspectives and diverse life experiences, we are unified by our faith in Jesus Christ.
We will celebrate through enthusiastic worship, blended in style, broad in reach, joyful, and uplifting
We will provide opportunities for spiritual growth that reflect our diversity of experience and unity in Christ
Our Connection with Each Other
We are small, friendly church that sees the faith community as a family and that genuinely appreciates all people.
We will foster this family relationship through our fellowship activities and provide opportunities for deeper personal connections
We are a church that recognizes that faith is a journey, and it is our task to actively support each other as we grow in our relationship with God through Jesus Christ
We will be a church that is accessible physically, socially and spiritually
Our Connection with our Community
We are a Christian community of faith in and for the local neighborhood.
We will be a resource for the community, a place where our friends and neighbors can turn to in times of need
We will reach out with ministries that reflect Christ's love and value for all people
We will join with other faith communities to better accomplish the mission of the Church